Huge thanks go to the publisher and NetGalley for allowing me access to the advance readers copy of this graphic novel in exchange for an honest review.
Well, this is a first for me! Reviewing a graphic novel. Ok, yes it's Star Trek, but who doesn't love Star Trek??? I was a little worried about how it would translate in to the graphic format, but it worked really well, and the story was pretty good too.
Whilst at Starfleet Academy, Uhura intercepts a distress call and, upon investigation, she discovers a mystery. The files are restricted. Why? She sets out to discover just that. Meanwhile, three years in the future, a Vulcan Starfleet cadet, T'laan, has her own problems in the form of a competition marking the centenary year of the Academy. She has to face her own personal demons, just like the rest of her team, as they try to win against teams from other academies. Along the way, they discover more than they expected.
The story itself is good, and certainly intriguing. The new characters were all very good, even funny, and I would say they are true to the feeling of the original show and the movies. As for the artwork, always important in a graphic novel, I found it to be superb.
As a novice to the graphic novel world, I found this a highly pleasurable experience. I would recommend this to anyone who holds Star Trek close to their heart...or hearts.
Star rating: 5 from 5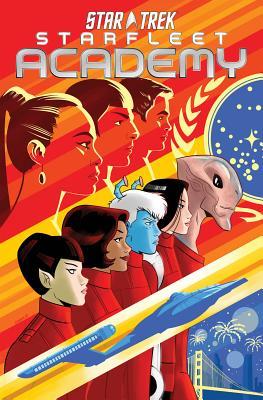 This book will be published on 2nd August 2016