I was given a review copy of this book by the publisher, 4th Estate
,
in return for an honest review.
I think I'm struggling to find the words to describe just how good this book is! The simple fact is I LOVED IT! I can't stress those words strongly enough.
Right from the beginning, I was hooked on the characters. The story follows, primarily, the young lives of two very different people - Marie-Laure,a blind Parisian girl, and Werner, a highly intelligent German boy who has a love for wireless radios. I felt an immediate connection, despite having absolutely nothing in common with either character. Earlier in the book, I was more interested in Werner's story, but as the book developed, Marie-Laure became much more interesting. There is a cast of other characters, of course, and I don't think this review could be complete without mentioning the wonderfully calm, and seriously dangerous von Rumpel.
The plot is wonderfully intricate, turning all the time towards the end of the Second World War when it is based. The landscapes of both France and Germany are clearly written and the dangers are written appropriately atmospherically. There were a few tears (and this coming from someone who finds it impossible to cry!), and certainly some shocks to the system. Every bump of the road from Berlin into Russia was felt as vividly as the smells and sounds of the coast at St Malo, France.
If this book had one flaw it was a mild predictability about one part of the fates of the two main characters. Also, I would have liked a little more about some of the lesser characters who were most intriguing.
Star rating: 5 from 5 - One of the best war stories I've ever read!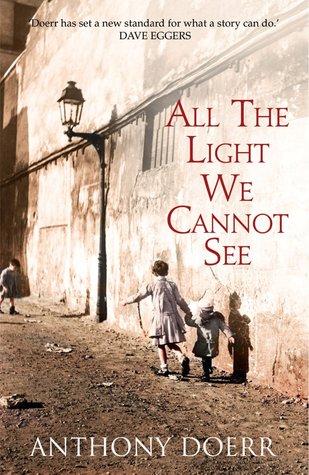 You can find out more information about this book by following this link:
https://www.goodreads.com/book/show/18143977-all-the-light-we-cannot-see